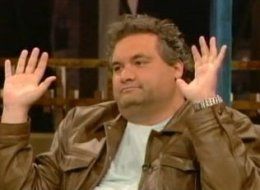 It a show on goddamn HBO and nobody expect him not bring his A game! That the channel where George Carlin did all his specials it where Bill Maher is on every Friday night not to mention all the sex, violence and cursing going on the rest of the time. It safe to say that if they had bother to tell Artie that they wanted a wussy Disney performance. He would have oblige like he do every time he goes on Letterman or Conan and the rest of the clean late show.
Artie is a good worker and he know how to work clean when asked for but you give the guy a few minutes on an supposedly uncensored network and you tell him to "bring it" if the show is boring what the hell do you expect him to do? God knows it was very boring until Lange stepped in you should be kissing his feet for having put your pathetic show on the map. My prediction Joe Buck live does not survive the next show because it likely going to be a snooze fest and all the free advertisements they got would be totally waisted when peoples realize how boring the show really was before Artie!
The only thing that could save that show is for HBO to fire Joe Buck hire Artie rename the show Artie Lange Live and ride the controversy like they do for just about every other show on HBO!
About Video
Read the Article at HuffingtonPost